If you need to change the email address for your Access Server portal account, follow this self-service procedure:
Sign into the Access Server portal.
Click on your user icon in the lower-left corner.
Click My Account.
On the Profile tab, click Change Email.
Enter your new email address in both fields.
Click Save.
Enter your password at the prompt.
Click Confirm.

After confirming, you receive the following message:
Respond to the confirmation email sent to the new email address by clicking the verification link. If you don't receive the confirmation e-mail within ten minutes, check your spam folder or click Resend Email.
After you verify the change, you are prompted to configure a new password. The email change takes effect in about ten minutes.
Once the change is complete, you receive notification with the new email address.
Note: If the new email address already exists in our user database as an "owner", you receive the following error message: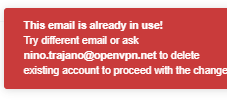 To resolve this issue, delete the email first using our delete procedure.
Important: If the new email has an Access Server or CloudConnexa subscription associated with it, the subscription will be deleted also.
If you have additional questions, please submit a support ticket.